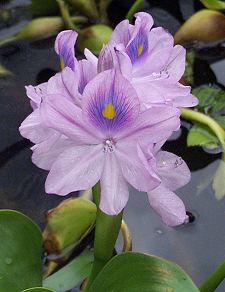 Home Grown Water Hyacinth
To hold down the liner, I cut some 1/8" thick by 1.25" wide redwood 6.5 feet long and screwed it to the very top inside lip of the barrel (well above water level) using stainless steel screws. The liner was held captive between the barrel and the redwood. I hope that you have better luck with the wood strips. Even though I soaked them in water and pre-bent them, they cracked during installation. Oh well, just adds character. A utility knife was used to trim off the excess liner to the top of the redwood.

I bought some water hyacinth and water lettuce which you can find at most pond shops to float around in the barrel, as well as a few taller accent water plants in plastic pots I made a couple plant shelves with the scrap eggcrate light diffuser panels from the Home Depot. I cut crescent shaped sections from the panels about 5" wide to serve as a shelf and then cut out the grid as done previously to create a ~1" square for each leg. Later we bought a water lilly.